Indian Trail Golden Retrievers breedings produce a sweet and loving disposition in a puppy. We breed for conformation, as well as personality. We take special care in matching our stud dogs with our dams to produce beautiful, healthy, and long lived dogs.



A Golden Retriever puppy should have bright eyes, a thick lush coat, a black wet nose, and clean ears. A puppy should have several puppy shots and be wormed by the time they are ready to go to their new homes. A Golden Retriever puppy should have both parents cleared by OFA for elbow, hip, eyes, and also have a heart clearance. These are weaknesses in Golden Retrievers created by over breeding and breeding too closely. Regardless of what you want your puppy to be- an obedience dog, a show dog, or a loving pet, you as a buyer need to make sure that the breeder follows strict breed guidelines. At Indian Trail Golden Retrievers, located in Connecticut, we take extra care to have all our breeding dogs screened and cleared for any possible health or hereditary problems, which will provide new puppy owners the best puppy available.



Your puppy should reflect your family. Active families should choose an active and outgoing puppy that will thrive in an busy household. A puppy needs plenty of activity, and your puppy should be inquisitive, playful, and not shy. All new puppy families should plan to bring their puppy to puppy classes, it is as important for the owners as for the puppy. The investment in puppy school will reap endless benefits. Consistency in training, both for the owners and the pup, will make your pet expedience most fulfilling. Each puppy has an individual personality, and the fact that our puppies are home raised, helps us match pups with their prospective families.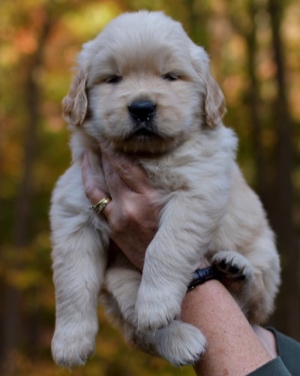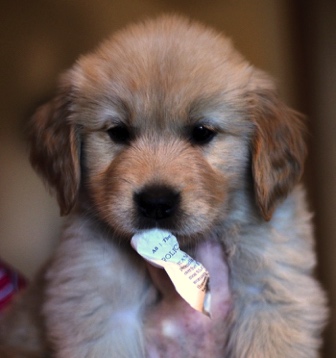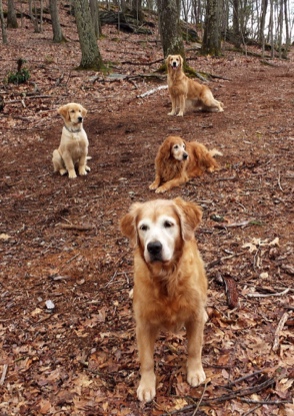 We have found that many pups choose their new families. Puppies just love children, and the bond will last for your dogs life. Remember that puppies are puppies, and they will pull on shirts, pants, hands, and your house will have to be puppy-proofed before you new puppy arrives. Puppies will be teething. They will need plenty of chew toys. Puppies will chew furniture, toys, shoes, whatever they are allowed to chew. Damage to your belongings is not the puppies fault, but the owners.

Training and correct confinement, such as crating when they are not with you, will help to give a positive experience. Plan to spend time with you puppy. They will require a lot of exercise. The more positive activity you give your puppy, the less time and energy they will have to get into trouble. Our puppies love to retrieve. We take hikes, and just spend time outdoors playing tug of war. Consider how an Indian Trail Golden Retriever puppy will complete your family.